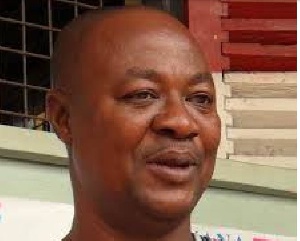 New Patriotic Party (NPP) Ashanti Regional Secretary, Sam Payne has launched a scathing attack on the National Commission on Civic Education (NCCE), saying the parastatal ought to be blamed for the recent episodes of violence among Ghanaian youth.
The NCCE is worried by what they see as the governing New Patriotic Party's (NPP) unwillingness to demonstrate its commitment to the rule of law by causing the arrest of members of the vigilante group, Delta Force, following a near attack on a Minister.

Chairperson of the Commission, Josephine Nkrumah said the criminal activities of the group, which is affiliated to the governing party, have reached national crisis levels asking the government to rein in the chaotic scenes and disorder caused by the NPP youth.

Addressing a news conference in Accra on Monday, the Chairperson of the NCCE, Josephine Nkrumah demanded a state-led swift action.

In condemning the actions of the Delta Force, madam Nkrumah also called on the Inspector General of Police (IGP), National Security Minister and other stakeholders to disband all vigilante groups and enforce the rule of law.

But Sam Payne has defended the NPP government's hard line on vigilantism while he accused the NCCE of rather abandoning its pivotal role of educating the citizens on responsible conduct, a reason why the nation has seen excessive vigilantism and mayhem offlate.

"When was the last time you saw the NCCE in town taking up campaigns on these things?" he questioned in an interview with host Kwaku Owusu Adjei on Anopa Kasapa on Kasapa 102.5 FM adding the commission has rather shifted its responsibilities and mandate and shamefully blaming government for the pandemonium caused by the youth.
Background

There was heavy tension at Tafo-Pankrono Constituency in the Ashanti Region over the weekend when aggrieved members of the Pro-NPP vigilante group, Delta force, stormed a meeting organised by the party executives to demand answers of failed promises and neglect from their MP.

Although reports has it that Dr. Osei wasn't physically assaulted, members of the group accused him of unfulfilled promises made to them in the lead up to the 2016 general elections.