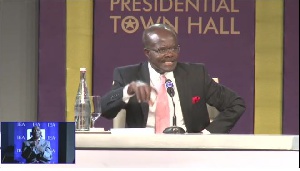 The government of Ghana should be held responsible for the huge debts incurred by state power producer Volta River Authority (VRA), Dr Papa Kwesi Nduom, presidential candidate of the Progressive People's Party (PPP), has said.
The VRA owes about 14 banks to the tune of $3.7 billion and is also indebted to N-Gas by $166 million while Ghana Gas is owed a total of 246 million dollars.

Talking about the VRA's debts and what he will do to tackle the issue during the Institute of Economic Affairs (IEA) Presidential Debate on Tuesday November 22, Dr Nduom said: "The question we need to ask is how that debt came about? Because VRA was not always in debt. When VRA was exporting power, VRA was making money, but when the exportation of power ceased, what happened was now the power was being sent to ECG.

"ECG was distributing power and government as the biggest consumer was not paying them, so ECG is also owing VRA and so it is not the inefficiency of VRA that has caused the problem. We must understand the source of the problem if we are going to solve it. So, if it is indeed this same government that has put that problem, then we must find a way to take that problem off the table of VRA and solve it. So, we need to find a good financial solution that will not overburden the consumer once again."
He added: "So this is the huge issue on the energy sector that must be solved and it will not be solved with a political solution. Those professional politicians must step aside and let's get financial experts and the technical experts to get together to figure out how to solve that problem and the right kind of leadership on top to ensure that no politician interferes, nobody who wants unnecessary money without sweating for it gets close to the action, and so we find a solution.

"I believe that that solution to VRA debt can be found. I have been there before and I know that it can be done."