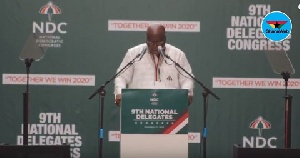 Greater Accra Regional Chairman of the National Democratic Congress (NDC), Ade Coker says the decision by some 9,000 delegates of the party to elect a mix of old leaders and some new faces is the right way towards the party's agenda to return to power after 2020.
The NDC held its national delegates congress over the weekend at the Trade Fair Centre in Accra to elect new executives.

While the likes of General Secretary Johnson Asiedu Nketia retained their position, others lost to a new crop of leaders.

The NDC Greater Accra Regional Chairman told Winston Amoah on 3FM's Sunrise morning show on Monday, November 19, 2018, that the party is now set now for victory in the 2020 elections.

According to Mr. Ade Coker, party delegates are in a better position to know the right people who can lead the party to victory, hence, their decision is well directed at achieving that goal.

"I am very positive that the blend of the old and new will work for our good, though some of them are yet to be on the political limelight. I think we are not far from achieving what we are set out to do."

"The choice that they made is something that some of us had anticipated, and I think that we are able to understand ourselves to work together and remember that the elections are over and the true people of the NDC have decided that these are people that they want to move with, then we make progress."
He also stated that he is confident in the newly elected National Chairman of the party, Samuel Ofosu Ampofo.

"If you look at the record of Ofosu Ampofo where he started from, from the branch and even constituency level…This is somebody who is well bred in party activities. This is someone who believes the party will be functional. He is clothed with that expertise to run the party," Mr. Ade Coker stated.

The Greater Accra Regional Chairman also expressed the same level of confidence in all other elected leaders of the party, adding that they are all cut out for the job ahead.