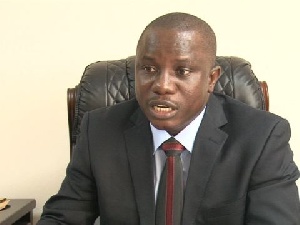 A planned meeting by the Minority New Patriotic Party (NPP) Caucus in Parliament to discuss the indefinite suspension of the embattled National Chairman of the elephant family came to an abrupt end this afternoon.
This follows disagreements over the decision to suspend Mr. Afoko on grounds of misconduct.

Majority of the MPs who were not happy about the suspension of Mr. Afoko vowed to resist any attempt to cow them to support the party's decision.

Inside sources told Kasapafmonline.com that one of the stalwarts of the NPP Caucus, who was not enthused by Mr. Afoko's suspension vehemently objected to plans by the leadership of the party to support the National Executive Committee's (NEC) decision.

"Majority of the MPs were not in favour of the suspension. They were wondering why Mr. Freddie Blay has become a thorn in their flesh. They have vowed not to support the decision," our source added.

Deputy Minority Leader, Dominic Nitiwul, who chaired the said function in Parliament, our sources say, was in favour of NEC's decision and tried his best to win the hearts of his colleagues to do same.
The Minority Caucus was supposed to have been part of the NEC's meeting that unanimously suspended Mr. Afoko indefinitely on Friday but for strategic reasons, decided to opt out and stay neutral.

But our sources say that decision was basically centered on the legality of Mr. Freddie Blay's chaired meeting.

Majority of the NPP MPs had contended that Mr. Blay, who is under investigations for his role in the Ecobank account saga of the party per the dictates of the constitution of the Danquah-Busia-Dombo tradition was not eligible to preside over the said meeting.

Our sources say the meeting nearly turned into a fight when tempers flared up. It took the intervention of some MPs to solve it amicably.