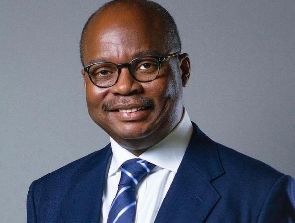 The Bank of Ghana (BoG) has once again received international plaudits for its forward-thinking approach, as evidenced by its swift introduction of a regulatory sandbox for start-ups.
Speaking as part of a panel during the Africa CEO Forum (ACF) Annual Summit in Abidjan, Côte d'Ivoire, Miishe Addy – co-founder and Chief Executive at e-logistics start-up Jetstream – cited the sandbox as a critical tool for driving innovation and commended the BoG for taking the lead with its introduction.

"One of the tools needed to push innovation and harness emerging technology is a regulatory and innovation sandbox, and the Bank of Ghana has shown immense ambition in this regard," she said.

Following a successful pilot, the BoG launched its Regulatory and Innovation Sandbox on August 19, 2022, aiming to create a favourable regulatory environment for innovation and financial inclusion by providing a controlled environment for testing innovative financial products and business models under regulatory supervision.

The regulatory sandbox was opened to the first cohort of participants from February 13, 2023 to March 14, 2023. Eligible participants include various financial institutions and fintech start-ups.

It supports digital business models not currently covered by regulations and aims to address financial inclusion challenges. Participants can test the viability of their offerings and address any issues before seeking regulatory approval.
The sandbox is crucial for driving financial inclusion and developing reliable products and services for micro-, small- and medium-sized enterprises (MSMEs), with a priority for products and services leveraging blockchain technology, remittance solutions, crowdfunding, electronic know your customer (e-KYC) platforms and more. The first cohort will focus on payment, remittance, crowdfunding and micro-lending innovations.

"As Ghana and the rest of the continent continue to position themselves as a hub for technology and innovation, fostering a supportive ecosystem for tech talent and expanding access will be vital steps in achieving its ambitious goals," Ms. Addy further stated.

Talent pipeline

The Jetstream chief also emphasised the pressing need for Ghana to establish a constant pipeline of tech talent in order to foster innovation and drive economic growth. She drew parallels with the dynamic relationship between Stanford University in the United States and Silicon Valley – home to tech juggernauts Apple, Google, Microsoft, Tesla and Linkedin, among others.

At the tech Mecca, the market capitalisation of the top-five companies is currently in excess of US$6trillion and their Gross Domestic Product (GDP) in 2019 stood at US$275billion, according to official data.
Ms. Addy – whose outfit earlier this year secured US$13million in equity and debt pre-Series A financing – highlighted the role of educational policy and infrastructure development in supporting Ghana's burgeoning technology sector.

She pointed out that the country is home to several relatively new universities such as Ashesi and Academic City, both less than 20 years old. However, these institutions, she said, have faced significant challenges in obtaining accreditation.

To meet the requirements, they had to affiliate with existing universities – resulting in delays when introducing critical courses such as artificial intelligence (AI). This delay meant that many students who graduated during this period missed out on the opportunity to study AI, a crucial field for future entrepreneurship and job opportunities.

"One of our engineers came from one of these universities, and he told me that it took them four years to get an artificial intelligence course approved," she said.

To address this issue, the start-up founder stressed the importance of educational policies that promote innovation and equip students with the necessary skills for future success. By introducing courses in emerging technologies like AI, blockchain and data science, educational institutions can ensure that graduates are well-prepared for demands of the evolving job market.
Encouraging and empowering young students to pursue these fields will help create a pool of talented individuals who can drive Ghana's technological advancement and contribute to the growth of local companies, she added.

This comes as there is heightened conversation around the need to focus on improving connectivity infrastructure in the country. While acknowledging the digital nature of today's world, a significant portion of the population still lacks access to affordable and reliable Internet connectivity.

This digital divide hinders the participation of a large segment of the population in the digital economy. To overcome this challenge, analysts have urged increased investments in infrastructure to expand Internet connectivity – enabling more people to access educational resources, job opportunities and digital services.