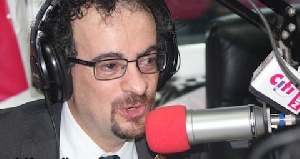 The British High Commissioner to Ghana Jon Benjamin has said British High commissioners and other diplomats do not fly first class on planes.
According to him, the UK has strict rules on how resources are used by its foreign staff and therefore rarely allow its diplomats to travel on the luxurious part of the plane.

Ghanaian and diplomats of other countries thought to be less rich than the UK are largely believed to often travel on the first class compartment of planes.

First class is a travel class on some airliners intended to be more luxurious than business class, premium economy, and economy class. On a passenger jetliner, first class usually refers to a limited number (rarely more than 20) of seats or cabins toward the front of the aircraft which have more space, comfort, service, and privacy.
Speaking to Kafui Dey on Morning Starr Monday, Benjamin said there must be a strong case for any British diplomat to decide to travel on first class.

"No I don't fly first class, I fly economy class," he said when Kafui inquired.

He continued: "We have very strict rules, any flight of less than ten hours, you fly economy. The only exception is if you are flying overnight straight into a meeting then you can have a case for a higher class, but it has to be cleared and agreed, but generally we fly in economy. I don't think I have ever traveled first class".