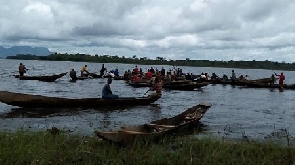 One fisherman has drowned, while ten others have been rescued after two canoes capsized at sea at Senya Bereku in the Awutu West District of the Central Region.
Information gathered by Kasapa News Yaw Boagyan indicates that, one out of the three people in the first canoe jumped into the sea while they were almost at the seashore but failed to come out.

In an interview, an eyewitness Ekow Annan revealed that, the second canoe also capsize 50 meters away from the sea.

According to him, the sea breeze pushed the canoe to hit a rock leading to the injury of two people while ten of them were rescue on time.
The injured people are receiving treatment at Senya Bereku Health Center.

A search is underway for the missing fisherman.