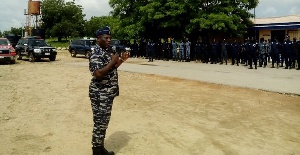 In the wake of the surge in armed robbery attacks across the country, the Inspector General of Police David Asante Apeatu has undertaken a major reshuffling exercise after majority of the public protested of feeling of unsafety in their homes.
The reshuffle comes at a time when several Ghanaians were calling for the dismissal of the Head of the country's Police Force, Mr. Apeatu.

In a statement dated March 1, 2018 released by the IGP's office Director of Operations COP George Dampare has been reassigned to head the research department. COP Christian Tetteh Yohunu who was head of the Special Duties is now leading the police intelligence unit.

Ten other officers have also been reassigned to take up various positions across the country.
Prior to the announcement of the shakeup, all the high ranking Police officials had met with Vice President Bawumia at the Flagstaff House to deliberate on how to solve the growing spate of crimes especially armed robbery attacks across the country.

Although the cause of the reshuffle is not immediately known, there have been a public outcry following recent reports of armed robbery attacks leading to the death of scores of Ghanaians in the country. The incidents created an uproar of several citizens on social media urging the Police to step up in their fight against crimes.