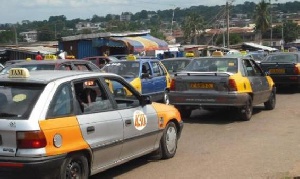 The Chamber of Petroleum Consumers (COPEC) is advocating for a comprehensive policy document on transportation fares in Ghana.
This has become necessary due to what the chamber describes as arbitrary increases in transport fares, when there is a change in prices of petroleum products.

Executive Secretary of COPEC, Duncan Amoah says this will prevent the consumer from being shortchanged "We insist that in the absence of transport fare policy, at each point when prices go up, you will find a section of drivers increasing prices at will.

We could develop a comprehensive transport fare policy to help measure and track the changes that should happen with fares. That is long overdue and Ghanaians will be happy because they will not be shortchanged", he emphasized
Though there have been challenges in bringing all of the various transport unions under one umbrella, the chamber is optimistic this policy framework is feasible if government brings together the various stakeholders and transport unions.

"Once the system is disorganized you find some arbitrariness. But if government brings all of these unions under one umbrella it will be feasible.

What is important is the leverage for parties, commuters and the transport unions".