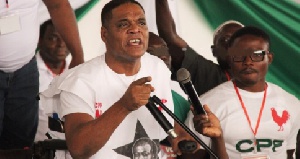 The Convention People's Party (CPP) says the final lap of its 2016 campaign will be committed to "crucifying" the two major political parties – National Democratic Congress (NDC) and New Patriotic Party (NPP).
"At the Central Committee of the party, we agreed with the national executives that this final leg of our campaign will be 'Operation Crucifixion and Resurrection'," the party's Presidential Candidate, Ivor Kobina Greenstreet, said at the 2016 manifesto launch on Saturday.

The launch saw leading members of the party gather at the Ghana Academy of Arts and Sciences to also unveil a Braille version of the manifesto. 'Ghana to take world by tsunami' Mr Greenstreet bemoaned the current state of Ghana, which gained independence as the first sub-Saharan African nation under the CPP in 1957.

"We shall bring back the dignity of our nation," the former General Secretary of the CPP stressed. He expressed surprise how some countries have made it ahead of Ghana.
"China took the world by storm [but] Ghana will take the world by tsunami," he charged. The animated flagbearer, a former parliamentary candidate for the party in the Ayawaso West Wuogon, charged the 2016 parliamentary candidates of the party to equally get animated and incentivized ahead of the December 7 elections.

"I can never send you to battle naked," he said to an uproar in the auditorium. "We want you to go back to that kind of change we are talking about," he said, demonstrating the CPP's call for change by literally blocking NDC's John Mahama and NPP's Nana Akufo-Addo and making the popular change gesture.