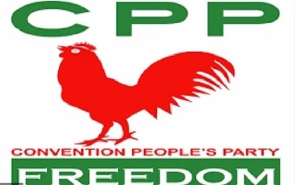 All persons looking to lead the Convention People's Party (CPP) as its presidential candidate in the 2024 general election should prepare to cough up GH¢450,000 as their filing fees.
This was announced as part of the details of the opening of nominations for its flagbearership position.

According to the statement signed by its General Secretary, Nana Yaa Akyempim Jantuah, all eligible candidates can pick up their forms from Thursday, April 20, to Thursday, May 11, 2023.

"The Convention People's Party wishes to inform the general public and all stakeholders that the party has open nominations to elect a flagbearer for the 2024 general elections.

"In this regard, the Party is announcing to all Comrades who are in good standing as enshrined in the party's constitution and are interested in contesting on the party's ticket to pick up their nomination forms from the Party's headquarters starting from April 20 to May 11, 2023," the statement said.

The CPP, formed by Ghana's first president, Osagyefo Dr. Kwame Nkrumah, has not been as attractive in recent decades as it was when it led the country to independence in 1957.
There have also been leadership issues in the party in recent times, even as the party struggles to regain its political clout in the country.

Meanwhile, watch the latest SayItLoud episode on GhanaWeb TV below:






Share your news stories and ideas with GhanaWeb




AE/SEA