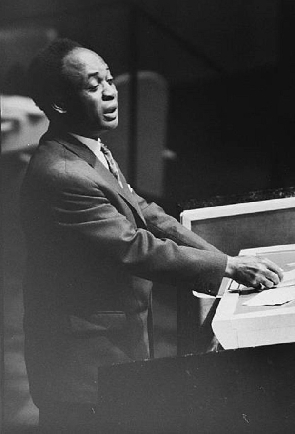 Sun, 30 Apr 2023 Source: GNA
The Convention People's Party (CPP), leadership and members gathered at the Kwame Nkrumah Mausoleum and Memorial Park in Accra, to commemorate the 51st anniversary of the death of Ghana's first President Osagyefo Dr Kwame Nkrumah.
Osagyefo Dr. Nkrumah founded the CPP, which worked to achieve Ghana's independence in 1957 but was deposed in a military coup on February 24, 1966.

The CPP Chairperson and Leader, Nana Akosua Frimpomaa Sarpong Kumankumah, led members of party leadership and contemporaries of Osagyefo Dr. Nkrumah to honour Osagyefo at the Kwame Nkrumah Mausoleum.

In an interview with the Ghana News Agency, the CPP Leader stated that Ghana's First Prime Minister, died in exile on April 27th, 1972.

The Chairperson, the CPP leadership, and members of the party laid wreaths on his tomb and called at the Otublohum Palace on the Paramount Chief and good people of Odododiodio, a Parliamentary seat won by Dr. Kwame Nkrumah in 1951.

After the overthrow, Osagyefo Kwame Nkrumah lived in Conakry, Guinea, she said. He travelled to Romania for medical treatment in August 1971, but died on April 27, 1972, at the age of 62, in Bucharest, Romania.
After being buried in Conakry, Guinea's capital, and later relocated to his hometown of Nkroful, in Ghana's Western Region, he was laid to rest in the mausoleum.

Rare antiques from Ghana's independence are housed at the mausoleum.

Nana Kumankumah stated that the party still believed in the former president's beliefs, identifying him as an Africanist, political theorist, and revolutionist who deserved a proper funeral following his death.

Dr. Kwame Nkrumah was born on September 21, 1909, in Nkroful, Gold Coast, Ghana. Despite growing up in a small fishing village, he attended college in the United States.

He graduated from Lincoln University with a Bachelor of Arts (1939) and a Bachelor of Theology (1942) and continued his studies at the University of Pennsylvania, where he earned a Master of Philosophy and Studies (1942, 1943).
Source: GNA