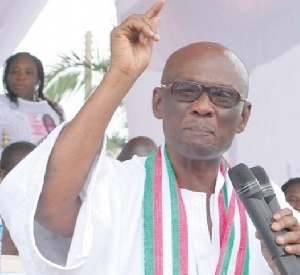 The Convention People's Party launched the 2016 manifesto at the Ghana Academy of Arts and Science dubbed 'Apam Fofro' meaning new covenant with the party's presidential candidate, running mate, national executives, founding members and supporters of the party present.
However, interdicted national youth coordinator and general secretary, Ernesto Yeboah and Nii Armah Akomfrah failed to grace the occasion.

In an exclusive interview with rainbowradioonline.com on reasons why the interdicted officers failed to attend the launch, party's chairman Prof. Edmund Delle said, the party's structures does not recognize the participation of the interdicted officers.

''You know that they have been interdicted and like any other organization, if you are interdicted definitely your participation at program like the manifesto launch is not warranted.

If you interdict a policeman, and they are marching, will he join them to march?'' He added, until they are brought into the fold again,'' their participation is not warranted.
Prof. Edmund Delle stated further that they party is ready to work with any aggrieved member and has admonished such persons to come back so the party work towards victory.

''We are a united party and we want everybody to come back. All people within the party and those who are not members,'' are also welcomed to join our great party. He said, the party's ability to pull Nana Gabby Nketiah as running mate from the opposition NPP shows how open and inclusive the party is.

''There are people who are yearning to join the CPP…The current leadership is one that is united together and we also committed to winning power.'' General Secretary, Nii Armah Akomfrah and Youth Organiser, Ernesto Yeboah were suspended after they made public statements that contradicted those of party flagbearer, Ivor Greenstreet, on President John Mahama's Ford gift saga.

The two were subsequently referred to the Disciplinary Committee.