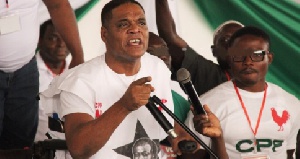 Fri, 4 Nov 2016 Source: GNA
Mr Ivor Kobinah Greenstreet, the Presidential aspirant for the Conventions Peoples Party (CPP), has pledged to restore peace in the north to accelerate national development.
In an interaction with the political parties organised by the Northern Development Forum on their plans and policies for the Northern, Upper East and Upper West Regions, Mr Greenstreet said one key element for development was peace and stability that has been a bane in these areas.

"Without solving the conflict issues on the ground, all the great plans that we wish to roll out would only be rendered useless,', he added.

Mr Greenstreet spelt out a comprehensive energy, agricultural and educational plans that his Party seeks to do if given the baton to lead the country on the December 7 polls.

On the energy sector, the Presidential aspirant said his outfit would be able to use wind to produce 9000 megawatts of electricity.

"We have very strong views with respect to utilising renewable energy resources especially wind because a research conducted proves we can generate 9000 megawatts of electricity using wind."
He explained that the accumulation of wind in northern Ghana was enormous therefore he would capitalise on the opportunity to install 9,900 wind turbines manufactured from the Abosso glass factory to generate 9000 megawatts of electricity for the country.

Touching on agriculture, Mr Greenstreet said he would utilise the vast stretch of land in the north for the production of Almond tree to generate foreign income for the country.

"The Almond tree has a huge demand on the international market as compared to cocoa and if grown extensively in the region it would generate more revenue for the country."

He said the tree would be harvested and processed in the country because its processing was very easy.

"This will provide employment for people as well as generating income for them because everything will be done in the country," he observed,
Mr Greenstreet said his regime would also provide loans to indigenes especially the women to engage in large and mechanised farming and other businesses.

Speaking on education, the presidential aspirant said he would embark on a massive adult literacy programme.

He explained that most of the focus on education has been shifted on the younger ones leaving the adults who couldn't afford to go to school.

Therefore "I would use the churches and other religious organisation to ensure that people are brought to a standard where they can engage in some basic things in life to earn money for themselves".

Mr Greenstreet said these plans if well executed would not only accelerate development in the north but also curtail the rural-urban drift in the country.
Source: GNA