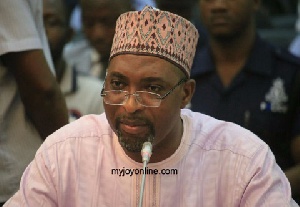 It has emerged that the Second Deputy Speaker of Parliament and MP for Nadowli/Kaleo, Alban Sumana Kingsford Bagbin and 27 others from the minority side failed to append their signatures to the 77 MPs from the minority side that reportedly called for emergency sitting of the House to consider the cash for seat saga.
In the said motion, it was also reported that Hon. Eric Opoku, Collins Dauda, Adam Mutawakilu were part of the signatories, but a careful scrutiny by the Majority Leader, Osei Kyei Mensah-Bonsu proved otherwise.

Members of Parliament from both sides today convened to debate the motion moved by the Minority Chief Whip, Mohammed -Mubarak Muntaka calling on the Speaker to set up a bipartisan committee to probe the alleged US$100,000 expatriates saga.

Speaker after listening to both argument from the floor of the House, ruled that eventhough there were procedural errors submitted to him by Muntaka and co, the matter before parliament is of grave importance therefore he directed that the House should be suspended for half an hour for the mover of the motion to correct the procedural errors.

However, he warned that such procedural errors should not be repeated.
The minority had alleged that the Ministry of Trade & Industry extorted various sums up to US$100,000.00 from expatriate businesses and related matters during the recently held Ghana Expatriate Business Awards in Accra.

Friday's emergency sitting was at the instance of the Speaker, Rt. Hon. Prof. Aaron Michael Oquaye. His directive was contained in a statement issued in Accra, Friday, December 29, 2017.