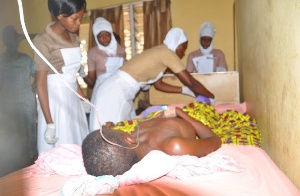 Eighteen persons have died from meningitis in the Upper West Region in the last three months, officials of the Ministry of Health have disclosed.
The fatalities recorded are out of 137 suspected cases that were reported at the various health facilities across the 11 districts in the region.

The Regional Disease Control Officer, Justina Zoyah-Diedong, blamed the deaths on the geographical location of the region as well as the annual high and unpredictable temperatures. These factors, she said, makes persons living in the region prone to Meningitis.

According to her, the worst affected districts were Nandom, Nadowli, Jirapa, Daffiama-Bussie-Issa and Lawra, with Nadowli topping the list with seven fatalities so far, followed by Nandom and Jirapa, with five fatalities each, then Lawra, which had recorded one fatality.

"So far, five districts have reported meningitis cases. Analysis by districts of residence shows that all those districts have reported one or two cases of meningitis," she said, adding that there were fear and anxiety that more cases could be recorded, since the conditions bringing about the disease were still prevalent.

She cautioned against overcrowding and expressed reservation about crowded dormitories in some of the senior high schools in the region.

The Regional Disease Control Officer faulted the delay in getting results of samples from laboratory tests, inadequate funding for the procurement of equipment and poor logistics as some of the impediments to health service delivery in the region.
Meningitis

Meningitis is a dangerous epidemic, and endemic, febrile disease, characterized by inflammation of the membranes of the brain and spinal cord, giving rise to severe headaches, tenderness of the back of the neck, paralysis of the ocular muscles.

Meningitis an air-borne disease, is most feared because it is transmittable, fatal and spreads at an extremely fast pace.

But according to health experts, it is not as contagious as perceived.

However, the most prominent sign of cerebrospinal meningitis is a stiff neck, severe headache, seizures, fever and vomiting.