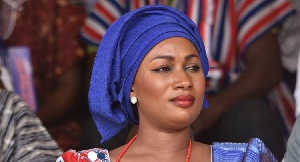 Wife of Dr. Mahamudu Bawumia, vice presidential candidate of the New Patriotic Party (NPP), Samira Bawumia, has entreated residents in the Krobo constituencies of the Eastern Region to change their voting pattern in the December 7 polls and also reject politics of deceit, lies and propaganda.
She has therefore, asked them to vote for Nana Akufo-Addo, the NPP standard bearer and the party, which she noted, had demonstrated great ability and commitment to improving the lives of the ordinary Ghanaian and transforming Ghana.

Mrs. Bawumia, who was addressing a gathering of Zongo chiefs and residents at the forecourt of the Somanya Central Mosque on Sunday, maintained that the choice of her husband to partner Nana Akufo-Addo for the third time is ample demonstration that the NPP has a lot of respect for Muslims, who contribute immensely to the development of the nation. She urged the electorate to assess the performances of the NPP and the NDC in government before casting their votes on December 7.

She intimated that a vote for the NPP is a vote for prosperity, fair distribution of national wealth and sustained development.

She also accused the NDC and its activists of amassing wealth and building mansions to the detriment of the ordinary Ghanaian, adding that the Mahama-led administration had put the country's finances in disarray by borrowing more within the three-and-a-half-year rule than those of all governments put together.
Mrs. Bawumia assured the residents of the NPP's commitment and dedication to revamp all the social interventions that were handed over to the NDC and yet witnessed the most abysmal management.

The wife of the NPP vice presidential candidate over the weekend toured the Zongo communities in the Lower Manya and Yilo Krobo Constituencies.

She also visited the Yilo market, Adjikpo, the Yilo Zongo School where she inspected a six-unit school building which is under construction, and finally addressed a rally at the Yilo Zongo.