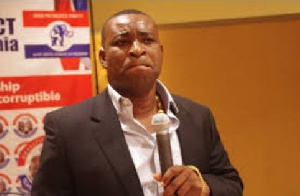 Members of the ruling New Patriotic Party [NPP] in the Ashanti region have described the appointment of One Ghana Beyeyie to supervise the polling station elections of the Atwima Nwabiagya constituency as a Conflict of interest on the part of the party's regional, Bernard Antwi Boasiako popularly known as Chairman Wuntumi.
They are startled as to why the chairman will nominate his friend who has expressed his desire to contest for the Regional organizers' position of the NPP, when there are other contestants as well.

The aggrieved party faithful believe that, the action by the sitting chairman is bias, and expressed worry of a possible division of the party in the region.

It will be recalled that Ghana Beyeyie, who is an assembly member for the Asokwa electoral area, has been suspended by the Kumasi Metropolitan Assembly for mercilessly beaten up the deputy Coordinating Director of the Assembly.

A member of the regional executives, who spoke to abusuafmonline on conditions of anonymity revealed that, this is not the first time, Ghana Beyeyie has been involved in an act of violence, He is reported to have beaten a colleague Assemblymember named Ogedey, who we understand is old enough to Father him.
Again, he is alleged to have pulled a pistol in public during a misunderstanding with some friends.

Our sources further reveal that most of the regional executives and some contestants in the upcoming elections, see the action of the regional chairman, as a scheme to popularize his preferred candidates and questions the credibility and fairness on the part of the sitting chairman who has also expressed interest to contest again in the upcoming elections.

The members are therefore calling for a proper election committee made up of people who have no interest to contest for positions in the upcoming elections to be set up, or see a divided party.

An attempt to reach Chairman Wuntumi proved futile as his phone was switched off before this publication.