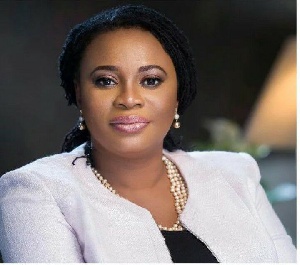 Sacked Chairperson of the Electoral Commission (EC), Mrs Charlotte Osei, erred in the manner she went about her differences with her two deputies at election management body while in office, Second Deputy Speaker of Parliament Alban Bagbin, has said.
On that basis, the Nadowli-Kaleo MP and flag bearer-hopeful of the main opposition National Democratic Congress (NDC), says Mrs Osei's removal, along with her two deputy commissioners with whom she was fighting, was justified.

President Nana Akufo-Addo, on Monday 23 July 2018, named the Executive Director of the Institute of Economic Affairs (IEA), Jean Mensa as the new Chair to replace Mrs Osei, whom he sacked along with her two deputies Amadu Sulley and Georgina Opoku Amankwah, over procurement breaches and incompetence, per the recommendations of a committee set up by Chief Justice Sophia Akuffo to probe the three commissioners.

Apart from Mrs Mensa, the newly-appointed deputies are a political science lecturer at the University of Ghana, Dr Eric Asare Bossman; and Samuel Tettey, Director of Electoral services in charge of elections at the Electoral Commission. Also Ms Adjoa Esuama Abrefa, a corporate legal practitioner with specialisation in land property acquisition, was named as a member of the commissioner.

Speaking about the turn of events so far, Mr Bagbin said: "I thought the lady [Charlotte Osei] also erred as the leader when the petition against her led her to also turn to attack her deputies and throughout that kind of infighting, did not create a very conducive managerial environment for the commission to move on.
"So, the removal of the three of them on that basis, alone, would have been justified but as to the legalities, that one the court will determine that", Mr Bagbin told Moro Awudu on Class91.3FM's Executive Breakfast Show on Thursday, 26 July 2018.