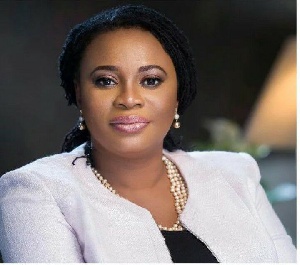 The Director of Elections and former National Organiser of the National Democratic Congress, Mr. Samuel Ofosu Ampofo has stated that the sacking of Mrs. Charlotte Osei from the office of the Electoral Commission was politically motivated.
According to him, the ruling New Patriotic Party plotted her sacking, from the day she was appointed as the Chairperson of the Electoral Commission by former President John Mahama.

Mr. Samuel Ofosu Ampofo made this statement on Wednesday during the "Kokrokoo Morning Show" on Peace FM hosted by Kwami Sefa Kayi. He was expressing his sentiments, following Mrs. Charlotte Osei's removal from office by President Nana Addo Dankwa Akuffo Addo.

He said, "To be honest, issues concerning the sacking of Mrs. Charlotte Osei is a political matter and nobody can tell me it's not influenced politically. Their agenda to smear the Electoral Commission started when Mr. Amadu Sulley was penciled to be the Commissioner. So when Charlotte Osei's name came up out of the blue, we all gave a sigh of relief".
He continued that,"From the moment her name was mentioned as the new Electoral Commissioner, the reaction from the leadership of the New Patriotic Party, the attacks on her personality and the troubles the commissioner suffered at the hands of the NPP members were very terrible. At a point during the 2016 elections, Mrs. Charlotte Osei was photo-shopped in an NDC T-Shirt. They even alleged that the woman had contested on the ticket of the NDC in one of the Nzema constituencies but was later proven to be false".

Mr. Ofosu Ampofo further emphasized that everything was done to destroy the image of Mrs. Charlotte Osei, stressing that, "the Deputy General Secretary of the ruling New Patriotic Party Lawyer Obiri Boahen described the woman in unprintable words and categorically stated that Mrs. Charlotte Osei would be removed from office if the NPP came to power. And further statements from Kennedy Agyapong and Ursula Owusu all prove that the sacking of the woman was politically motivated".

The President on June 28th sacked Mrs. Charlotte Osei, together with two of her deputies, Mr. Amadu Sulley and Mrs. Georgina Opoku Amankwah. It followed recommendations by the Committee set up by the Chief Justice to look into a petition brought against the Commissioners by some aggrieved staff of the Electoral Commission