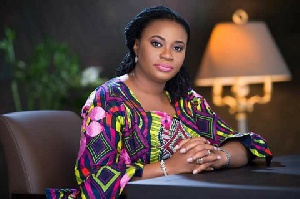 It has emerged that the sacked Electoral Commission (EC) chairperson, Charlotte Osei, ordered letterheads for the commission at the cost of GH¢131,250.
The letterheads, which were customized, formed part of the commission's rebranding exercise, which also saw the changing of the EC's logo.

The contractor, Innolink Limited, was tasked to print letterheads for EC's head office with the new logo at the cost of GH¢87,500 for 100 reams; making it GH¢875 per unit cost, and another set of 50 reams also at the unit cost of GH¢875 totalling GH¢43,750.

The order to print the letterhead was not part of the petition that saw her impeachment and subsequent removal from office along with her two deputies.

Bizarrely, the names of all the commissioners were embossed on the customized letterheads although members of the commission could go on retirement.

In the event that a member of the commission retires, it would mean that new letterheads would have to be procured because the incoming commissioner's name would have to be embossed on it.


Recently, one of the commissioners whose name was embossed on the letterhead went on retirement implying that the EC, after spending the whooping amount of money, would have to change the whole letterhead to incorporate the incoming ones.

The contract to print the letterheads with new logo was awarded to a private firm Innolink Limited in a letter from the commission on May 4, 2016 signed by Mrs. Charlotte Osei.



"We refer to your quotations in the tender GR/ECGH/GD/0D35/2016 for the printing of EC letterheads with new logo. We wish to inform you that your quotation of GH¢875.00 per ream for both the head office letterheads and that of the regions, exclusive of VAT and NHIL, has been accepted," the letter said.

The Chief Justice's committee, which recommended the sacking of the three EC bosses, was presided over by Justice Anthony Alfred Benin of the Supreme Court, with Justices Samuel K. Marful-Sau and Justice Agnes Dodzie, both of the Appeal Court, as well as Welbeck Abrah Appiah, former Chief Executive of the Ghana Premier League Board (PLB) and Rose Karikari-Annan, an astute banker and former Executive Secretary of Ghana Employers Association, as members.