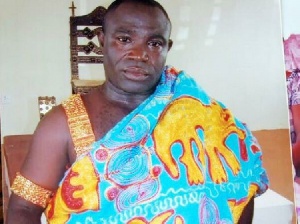 has said chiefs have contributed to illegal mining activities popularly called galamsey in the country.
The campaign against galamsey activities which has destroyed our water bodies and vegetation he noted is a good one and for it to succeed, we must all be part of it.

According to him, the wanton sale of lands by some chiefs has contributed to the challenges confronting the country as a result of galamsey activities. He said the cause to end galamsey has become difficult and has also made communities under developed.

Speaking in an interview with Rainbow Radio's Banahene, he said, the way and manner some chiefs sell lands is problematic and in most cases, it leads to litigation between affected parties.
In his view, a land is a valuable asset hence the need for chiefs to value it. The lands some of our chiefs sale can be used for a number of developmental projects.

Others are also unable to negotiate a good deal from the sale of lands and that is a serious problem. ''In most cases, the sale of lands ends up in court because the negotiation was and deal signed went bad, and instead of chiefs focusing their time developing their communities, they waste them in court litigating. '' Chiefs he added, have a role to play to help in efforts at building the country.

He further admonished chiefs to be selfless and dedicate themselves to serving the people who they rule.