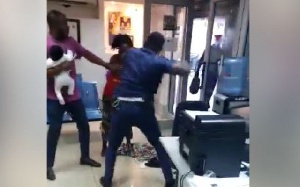 Christ The King Family Association Ghana and international(CTK) condemns in no uncertainty means the unfair treatment meted out to a woman who reportedly went to a Midland savings and loans with her two months old grandchild on her shoulder was assaulted by a police officer.
It was really inhuman and disheartening seeing an officer in uniform,well armed and structured,executing the ethics of the noble service and the professionalism he was taught to the background and decided to assault such an innocent woman and her grandchild in broad day light.The poor woman is said to have gone to withdraw money from a local bank where this officer was on duty.

Reports gathered has it that,the woman has been there previous days but was unable to access the money.On the day of the incident,she insisted and told the bank how urgently she needed the money to take care of her grandchild.Upon the excuse that the bank has closed whilst she has been there since morning,the woman told the manager that she can't leave without the money.This made the manager furious and allegedly ordered the police officer on duty to throw the poor woman out.

What we saw in the video smacks of human right,freedom of justice and a display of high level of unprofessionalism on the side of the policeman.we also condemn the attitude of the bank manager and the entire staff inside the bank at the time of the incident.They could have saved the situation but just looked on and left the woman to her own fate.If this is how a bank treats its costumers,then we really have a long way to go as a country.

Their activities must be looked into and as a matter of urgency,appropriate sanctions must be taken out to them.

We strongly support the President and the IGP to step in immediately and restore dignity and trust to the Ghana Police Service and punish the police officer accordingly in quest.

Freedom and Justice is our hallmark and needs to be served for all.
CTK:THE LORD OUR STRENGTH

CTK:THE LOVE IS DEEP

Yaw Ansah Akrofi

(Acting Secretary)

0242145909…