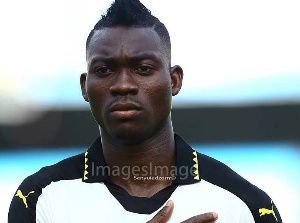 Abdul Hay Yartey, a management member of Ghanaian player, Christian Atsu has revealed that the player has no intention of retiring from national duties.
Two weeks ago reports emanated that the Newcastle winger had informed coach CK Akonnor of his unwillingness to play for the senior national team.

However, speaking on the issue in an interview Hay Yartey debunked the rumours and stated that the rumours were false.

"Christian has not discussed with me that he's pulling out of the Black Stars. When the news came, I actually spoke to him about it but he said he doesn't want to speak about it. Anybody who wants to know if it is true or false should go through the head coach of the Black Stars because the person stated that he had a conversation with the head coach of the Black Stars," Hay Yartey said.
According to Yartey who is the owner of Cheaters Football Academy, the player's silence on the issue is evidence that he's not concerned about it.

He said, "I think it is very important that we respect his opinion not to talk about it. Christian is one person who is very frequent when it comes to social media because he wants to share his opinions on issues but he has not shown any concern and has not even tweeted or posted anything on Instagram about it because he told me he doesn't want to talk about it."

Christian Atsu made his debut for the Black Stars in 2012 and was a member of the Ghana squad who made it to the finals of the 2015 AFCON where he won the African Player of the tournament.