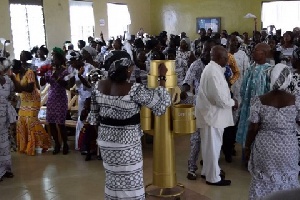 Many Christians today thronged churches in Wa the regional capital of Upper West to observe this year's Easter Sunday.
Almost all the churches visited by our news team were filled to capacity with believers who were in a joyful mood to celebrate the resurrection of Christ.

Radio Ghana's Correspondent, William Owusu Boateng reports that, Wa even though, is a predominantly Muslim community, the festivity was well celebrated by majority of the residents as on Easter Sunday, a lot of shops in the central business district of the town did not open whereas human and vehicular movement on the principal streets were limited.

Easter constitutes an important festival on the Christian calendar.

The Christian Community comprising the Orthodox, Pentecostal and Charismatic churches use the period to renew their faith and partake in the body of the resurrected Messiah.

The various church activities held by the Christiandom to mark the occasion completely altered the everyday life of Wa with the town appearing almost deserted.

When Radio Ghana's news team arrived at the Saint Andrews Cathedral of the Catholic Church, the place was filled to the brim with a good number of the congregants taking shelter under canopies mounted outside the church.
The officiating Priest Reverend Father Patrick Segpir in his homely recounted the significance of Easter to the Catholic Church. He entreated Christians to use the festivity to show love and humility as demonstrated by Christ.

Climaxing their annual Easter conference at the Tendamba School Park, members of the Wa Area of the Pentecost Church danced and praised God for seeing them through the period.

The Area Head of the Church Pastor Robert Andoh in an interview with GBC24 entreated Christians to have a sober reflection of Easter in order not to lose the true meaning of the festivity.

At the Christ Revival Assemblies of God Church, the picture was quite the same.

Canopies were erected to accommodate the backlog of congregants who could not get immediate access to the main auditorium.

The Regional Superintendent of the Church Reverend Robert Akolbugri narrated Jesus' journey to the cross and its impact on believers.