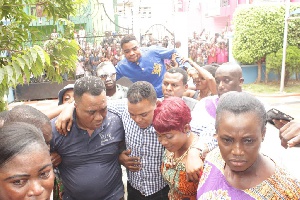 The Founder and Leader of the International God's Way Church, Bishop Daniel Obinim had a rousing welcome by family, friends and church members after he was granted bail today.
He was admitted to bail on both offences – assault and fraud charges at the Police Headquarters in Accra with two sureties to be justified (one for each offence).

The amount involved is immediately not known.

The preacher was initially scheduled for court on Thursday for his fate to be determined, but Kasapa FM's Daakyehene Ofosu Agyemang reports that the arrangement has been cancelled.

Tens of Police officers were early Thursday morning dispatched to the court to maintain peace and order ahead of Obinim's arrival.

However, due to the bail granted the preacher, the Divisional Police Commander had no choice than to disperse his men and women detailed at the premises of the court.
Obinim spent last night in the cells of the Striking Force Unit of the Greater Accra Regional Police Command after having experienced same life in the cells of the Nima Police Station on Tuesday.

The controversial Pastor was arrested on Tuesday morning after turning himself in to the men and women in black uniform at the Tema Regional Police Command. He was transferred to the Police Headquarters in Accra where he was subjected to further questioning.

His arrest drew a crowd of his church members who stayed overnight at the police station urging the release of their spiritual father and leader. Bishop Obinim was arrested by the Criminal Investigations Department for an alleged complicity in a fraudulent case.

He was reported to the Regional Headquarters of the Ghana Police by a Gold Dealer, Bismarck Kusi, for defrauding him of an amount of GHC11. 6 million.