Climate change bill will set clear obligations that will hold state, local govts accountable for emissions - Sosu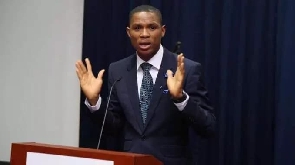 The Member of Parliament (MP) for Madina, Lawyer Francis-Xavier Sosu, has said that one of the reasons Ghana is not making significant strides in the fight against climate change is the lack of accountability of the side of the government.
Speaking in an interview with GhanaWeb, Sosu, who is co-sponsoring the Climate Change Bill, 2023, with two of his colleagues Dr. Godfred Seidu Jisaw, MP for Wa East and Samuel Okudzeto Ablakwa, MP for North Tongu, said that the bill would help hold the government account for the emission of greenhouse gases if it is passed.

According to him, holding the government accountable for the pollution of the environment is very necessary because of the threat of climate change to the livelihood of Ghanaians.

"The way we use our environment today endangers its usage for future generations. And that is why together with two other colleagues, I introduce this private member climate change bill that borders on (greenhouse gas) emissions and taking climate action generally.

"We are doing that to hold the government and the state accountable for excessive emissions and pollution. So, if you are in a community and there is pollution for example you expect local assemblies will take action under existing laws. If the local assembly fails to take action, then you have the right under the climate change bill to bring an action against the local assembly to enforce your right to clean air and clean environment," he said.

The MP explained that when the bill becomes law, it will set clear obligations that would be used to hold the central government accountable for the target its sets in the fight against climate change, including emission targets as well as local governments for pollution in their environment.
This, defined obligations, he said are absent in all of the existing climate change laws and policies.

"Under existing laws and regulations, we don't have clear-cut obligations on the state. When it comes to general enforcement of fundamental human rights or allocation of rights, we often say that where there are rights holders there is also a duty bearer or duty bearers.

"What this new bill seeks to do is to create obligations on the state to ensure a safe environment and to ensure that emission levels are kept low. And so, in any community where by virtue of either corporate, individual or state action we can test and we will know that emission levels are high both individuals and CSOs in that community can take action under this law to hold the government accountable," he reiterated.

You can also watch the latest episode of People & Places:




IB/OGB