Cutting Trees for Galamsey: A serious threat to climate change and food security in the Upper Denkyira East Municipality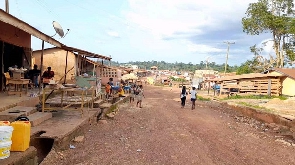 Correspondence from Central Region
When Madam Adwoa Ampomah at Denkyira Kyerewere started losing her cocoa farmland to illegal gold miners, she parked out of the land. "The miners are very evasive," she said.

In this area, most cocoa farmers are selling their fields out to artisanal miners 'a situation which affects agriculture and food security'.

This perceived lucrative business is however affecting the environment in many ways as discovered during a recent visit to the Upper Denkyira East Municipality in the Central Region where serious felling, and destruction of trees and water bodies within some communities of which the River Offin is no exemption can be noticed.

At Denkyira Kyekyewere, it was observed that over 50 acres of land which were used for farming, and forest reservation have been destroyed by illegal miners for their activities.

The situation was not different from Denkyira Denyase, Esaase, Obuasi, Abesewa, KwamPrakrom and other surrounding areas where all farmlands especially cocoa farms have been ripped off for galamsey.

Hundreds of farmers are in a similar predicament where their farmlands have been taken by illegal miners, thereby posing a severe threat to agriculture in the municipality.

Just 30 kilometers away from Ampomah's farm lies once a lively thick forest of biodiversity Awuram, in this forest, contained different species of trees strap flora and fawona were once preserved here but the activities of the miners have robbed the forest of these relevance.

Forest reserves meant to protect the environment to absorb the gases for reduction of global warming have been destroyed for these activities.

Despite the benefits mankind and animals derive from trees, the area is experiencing changes in weather patterns, and prolonged droughts among others due to the destruction of trees that help in climate conditions.

Impact of these trees has been recognized in developed countries where there has been a serious threat of climate change causing them huge sums of monies to fight against it.

Trees give off oxygen that we need to breathe, and reduce the amount of stormwater runoff, which reduces erosion and pollution in our waterways and may reduce the effects of flooding. Many species of wildlife depend on trees for habitat and provide food, protection, and homes for many birds and mammals.

Therefore, when these trees are cut off for other purposes including galamsey, where do we stand to get all these benefits they provide mankind and other defendants. The rate at which trees are brought down in the country reinforces the need for individuals, and authorities to stand up front to fight against the menace for the betterment of all.

This saddens Ampomah that the future of the country which relies on agriculture is at risk and needs eminent intervention and prevention.
"I am home jobless doing nothing, and now struggling to feed myself and children," she told GhanaWeb's Central Regional Correspondent, Victoria Agyemang.

Ampomah disclosed that most farmers who sold or lost their farmlands have resulted in galamsey or jobless adding up to the already high rate of unemployment in the country. This has increased the rate of unemployment and poverty among residents resulting in poor living conditions in the area.

"We are jobless home feeding on anything we get in the day, others who are stronger have joined illegal mining which we are fighting due to lack of employment," she told our correspondent.

Though authorities such as the Agriculture Officer of the Municipality have declined to speak to the reporter either for fear of victimisation or threat from the miners, the situation remained the same if care is not taken.




Threats

Marcelinus Dery, WASCAL scholar and PhD candidate in Climate Change and Education, University of The Gambia told GhanaWeb that illegal mining activities were causing the country hugely as far as climate change was concerned.

"We realize now winds are becoming stronger because the trees serving as windbreaks are cut off leaving the land bare thus the higher speed of wind through the environment," he added.

He said the number of trees and farmlands destroyed for illegal activities in the country in the past years cannot be downplayed.

Dery who doubles as Executive Director, the African Climate Change Initiative expressed worry about the current situation adding that in a few years to come if the effect of the illegal activities will surface and it will be hard to stop it at the time.

Additionally, he said in light of the growing phenomenon, state institutions which are mandated to protect the environment are often having a tough time with some illegal miners who destroy the environment to extract gold because of the lack of political will to deal with the offenders.

The fight against illegal mining activities was paramount as it significantly contribute to environmental sustainability, fight against climate change and food security.


Climate change

The phenomenon is having a toll on the vegetation cover of the area, where few forests and economic trees such as cocoa, cassava, and cashew which constitute about 90 per cent of the ecology are being ripped off.

Additionally, trees such as Odum, Wawa, and Sapele, which reduce the 'greenhouse' effects by absorbing carbon dioxide from the air and releasing oxygen have been destroyed by the miners.

The rate of destruction of vegetation through indiscriminate cutting, and felling of trees raises alarm and concerns that if the canker is not immediately halted, the area would soon lose its already depleted vegetation, worsening the climate change situation.

The Forestry Commission estimates that about 6.6 million hectares of Ghana's 8.2 hectares of forest trees have been depleted over the years through indiscriminate human activities.

Currently, the country's remaining forest cover of 1.6 million hectares is threatened by illegal mining, lumbering and other human activities.

A situation which raises alarm to damages and problems illegal activities causes the country and must be fought to its barest minimum.

Food Security




Marcelinus Dery, WASCAL scholar and PhD candidate in Climate Change and Education

Dery noted that climate change was a pandemic and thus it affect every aspect of life including agriculture and food. The country's crop and food production was at risk because it is mostly dependent on rain so when the trees to release the carbon for the cloud development fails there will be crop failures.

"Cocoa for instance does not need warmer weather which increases the temperature so when that happens then it would not do well in its growing. Crops, and food are under threat as the chemicals used in the extraction of gold destroy the soils, affecting biodiversity which contributes to global warming," he added.

How farmers have been affected


Yaw Adjabeng, a farmer in an interview with GhanaWeb said at first, he used to get about GHC2,000 from his farm every month but due to the activities of the illegal miners, the soil has been destroyed and it was affecting the growth of the crop resulting to low production as compared to first.

He feared he might lose his farm which was the sole source of their survival as a family due to the menace.

The miners he said were furious and armed therefore, he could not approach them in order to protect his life and family.

Though he has lost a portion of his farm to the perpetrators, the remaining was getting affected due to the substance used in extracting the gold and affecting the growth of the crops.

"Now I have lost about 2 acres of my farmland to galamseyers due to the substance and chemicals they use in extraction," he bemoaned.

Adjabeng noted that prices of foodstuffs have increased due to the unavailability of land to farm to produce food to supply the whole municipality.

Although there were food deficit in the area due to the activities of illegal miners, some farmers have taken advantage of the situation to make profits.

"There are no lands to farm so the few privileged ones have increased prices of foodstuffs and we are unable to purchase at the market," he added.

The adverse impacts of galamsey by surface mining method include deforestation, and reduction of soil fertility through stripping off top and sub-soils.

It also includes aggravated soil erosion, chemical contamination of surface and underground water, air pollution, physiological disorders in crop plants and low yields, food price hikes and high cost of living, displacement and a general increase in air and water-borne diseases.

Effort by Authorities

The United Nations Sustainable Development Goal 13 stress on countries to initiate policies and strategies to protect the climate, which could significantly affect goals one, two, three, six, 14 and 15.
Ghana, in that regard, had implemented a number of programmes in the protection and restoration process which include the Green Ghana Project, and Youth in Afforestation among others.

It spends huge sums of monies in these projects, especially the recent Green Ghana project but is yet to expect results with most of them dying due to the lack of nurturing.

Dery noted that the Government before rolling out the project should understudy the regions by knowing what best suit them before distribution of the seedlings

He said people protect trees that have benefits on their lives, therefore the project should be focused on that regard for the full restoration of the depleted forests.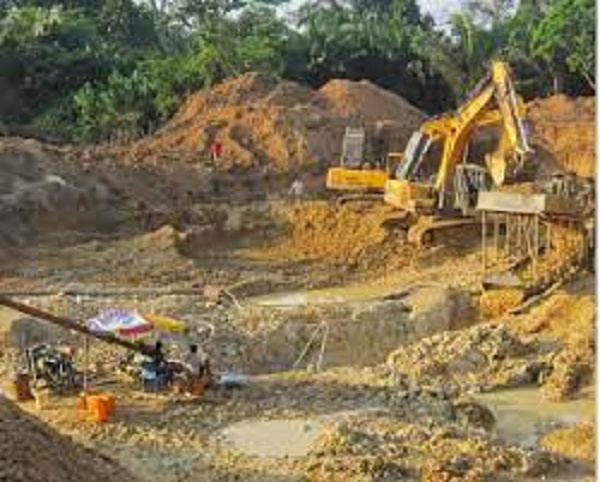 A file photo of a galamsey site in Ghana

Way Forward

Dery called on the need for a leadership transformational role in the fight against illegal miners so that all relevant stakeholders would commit to the fight.

He said perpetrators and citizenry needed proper sensitization to understand the threat and consequences of the activity

Dery told politicians and other bodies to refrain from politicizing the fight to collectively halt the canker

This report is produced in fulfilment of the UNESCO & CIJ London Climate Change in News Media project facilitated by the Centre for Journalism Innovation and Development.

Writer: Victoria Agyemang