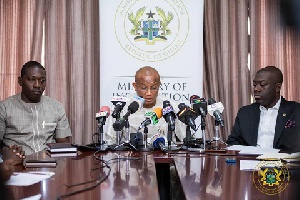 Information Minister, Mutapha Hamid has said the findings by the committee set up to probe the matters involving the EC boss and her two deputies would be forwarded to the Attorney General. He made the disclosure at a press conference today [Friday].
"It is the Attorney General who is basically in charge of legal matters, prosecutions and issues like that. So the Attorney General will study the report by herself and I'm sure in due course she will report to the Ghanaian people on the series of measures that she will take in order to ensure compliance with the recommendations of this committee."

According to Mustapha Hamid, "There were six allegations [made] against the chairperson [Charlotte], four against Amadu Sulley and four against Georgina Opoku Amankwa." He explained that the Attorney General is expected to study the report and take up the case.

The Electoral Commissioner, Mrs Charlotte Osei and her two Deputies, Amadu Sulley and Georgina Opoku Amankwaa have been removed from office, a statement signed by Information Minister, Dr Mustapha Hamid has said. The removal is on the recommendation of a committee set up by the Chief Justice Sophia Akuffo to investigate alleged acts of corruption, misconduct and misbehavior by the three commissioners.

A statement signed by the Minister of Information Mustapha Hamid said the committee recommended the removal on the basis of stated misbehavior and incompetence, pursuant to Article 146 (1) of the Constitution. A statement by a Minister for Information, Mustapha Abdul-Hamid on Thursday, said the President had directed the three persons to hand over their respective schedules to the Director of Human Resources at the Commission, while thanking them for their service to the country.


"The provisions of Article 146 (9) of the Constitution require the President of the Republic to act in accordance with the recommendations of the Committee " the statement said.