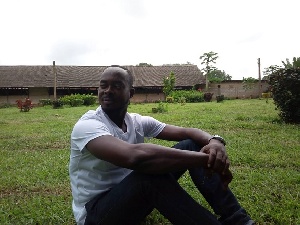 It has emerged that Martin Tweneboah, popularly known as Chief Tipsy who was stabbed to death by George Osei Mensah incurred the wrath of the suspect after slapping him during a heated verbal altercation.
Chief Tipsy is said to have challenged the 'Vandal status' of George, an encounter which sparked the argument, Ghanaweb has learnt.

The two were part of a group of former residents of University of Ghana's Commonwealth Hall (Old Vandals) who attended the funeral of another 'fellow' at Amrahia.

"It started as a mere argument between the two (the deceased and the killer) in the OVA [Old Vandals Association] bus on our way from Amrahia to campus (after attending the funeral of the late Vandal Lion).

"The argument became heated and the two had to be separated on several occasions by others. It went on and on. So, when we got to Atomic Junction, the driver was advised to stop and the two were thrown out of the bus. Others joined them.

"When they got to the Hall, they had not stopped. It was at this time that the killer allegedly grabbed the knife of the khebab seller and cut the victim several times with it. The victim bled profusely and was rushed to the Legon Hospital by the killer and some Vandals," a statement from Vandals Association said.
But sources say that George's decision to snatch the knife was triggered by a slap from Chief Tipsy in the course of their argument. He is said to have stabbed Chief Tipsy about six times in the neck.

The unfortunate incident happened at Commonwealth Hall, University of Ghana on Saturday evening.

The police have begun investigations into the killing.

Who is Chief Tipsy?

Chief Tipsy is believed to be aged 32 and hails from Nsoatre in the Brong Ahafo region. Until his demise, he was a student of the University of Ghana and a resident of Commonwealth Hall.
Chief Tipsy

Who is George Mensah?

Reports indicate that George, 37, is not a member of the hall. However, he has been an active participant of every Vandal program because he drums and is a member of the supporters group, Vandasu-Vandals Supporters Union.


George Osei Mensah (suspect)