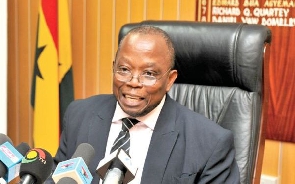 General Secretary for the Convention People's Party (CPP) Nana Yaa Jantuah has urged the Government of Ghana to compensate former Auditor-General Yaw Daniel Domelevo.
In a unanimous decision, the Supreme Court, on Wednesday, May 31, 2023, declared President Nana Addo Dankwa Akufo-Addo's 2020 directive to then Auditor General Daniel Yaw Domelevo to proceed on leave unconstitutional.

The president's decision was based on sections 20(1) and 31 of the Labour Act, 2003(Act 651).

The forced leave effectively ended his tenure as Auditor General. This, some analysts argued, was a constructive dismissal.

Following the directive, which compelled Mr Domelevo to proceed on a 169-day leave in June 2020, nine civil society organizations led by the Ghana Centre for Democratic Development(CDD-Ghana) saw the action of the President as invading the independence of the Auditor General's Department, sought a declaration of the constitutionality or otherwise of the action from the Supreme Court in October 2020.

The Supreme Court has unanimously declared President Akufo-Addo's directive unconstitutional, null and void.
"CDD & ors v. ATTORNEY-GENERAL (The Domelevo Case) has been decided, finally. The right side won," Executive Director of CDD-Ghana Prof H Kwasi Prempeh said in a social media post.

Commenting on the ruling on Accra-based TV3, Nana Yaa Jantuah said the former Auditor General must be compensated.

She said, "What would have been a story is if there is some compensation for him for the public disgrace, for the inconvenience and whatever he had to go through"

On the independence of the Auditor General's Office, she indicated that since the President continues to be the appointing authority, it will be difficult for such an institution to be made independent because the President will appoint people who occupy these offices and can be fired as and when people around the President deems it necessary to get rid of the occupant.