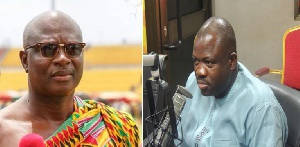 There is confusion in the opposition National Democratic Congress (NDC) over the decision by a former crony of John Mahama, Kojo Bonsu to contest his former boss for the flagbearership position, and more petty, over the true architect of the NDC's Unity Walks in the 10 regions of Ghana.
Kojo Bonsu re-emerged on the scene last year with the organization of NDC Unity Walks, ably assisted by (or together with) Joshua Akamba who is also now running for National Organizer.

When Mr Akamba heard of Mr Bonsu's declaration, he labelled the former Mayor of Kumasi a self-seeking, treacherous betrayer, revealing that the NDC Unity Walk was his idea but Kojo Bonsu hijacked the whole thing as it grew in popularity among NDC grassroots.

"I have been taken aback by this traitorous, self seeking and wicked hidden Agenda by Kojo Bonsu and wish to emphatically indicate, that I Joshua Hamidu Akamba, has absolutely nothing to do with this self centered Agenda." Akamba wrote yesterday.

But in a sharp response, Bonsu denied Akamba's version of events and further revealed how Mahama starved them of funds under dramatic circumstances.

According to him, he and Akamba started the Unity Walk to push their respective ambitions and they had discussed that together, to win the grassroots and push themselves into positions.

They only agreed to bring Mahama on board as a former President because he was a little popular and will make the walks successfully even though they knew he had flaws that made it bad for him to lead the NDC again.


Read full details below

RE: JOSHUA AKAMBA DISTANCES HIMSELF FROM KOJO BONSU AND HIS SUPPOSED FLAGBEARERSHIP CONTEST

I have read in media space, both social and mainstream that my bosom friend seeks to distances himself from my personal ambition to offer myself for consideration, with regards to the future leadership of our great party.

While I wish to state that it is OK for anyone to support or distance himself from any individual's ambition, that of my friend and comrade Hon. Joshua A. Akamba comes to me not only as a surprise but a calculated attempt to run from responsibility and principle. But for the quote below, which sort to cast aspersions on my integrity and obviously an attempt to run me down, such hurriedly pieced releases won't get my attention.

*"I must confess, that I have been taken aback by this traitorous, self seeking and wicked hidden Agenda by Kojo Bonsu and wish to emphatically indicate, that I Joshua Hamidu Akamba, has absolutely nothing to do with this self centered Agenda."*
While I admit this is politics, Akamba's write up does not only smacks dishonesty, but most unfortunate, especially where palpable falsehood was laced with personal attacks in an attempt to make him look good. Hence the response to set the records straight at least for the consumption of the general public.

1. It is on records that I conceived the *UNITY WALK* and rope in Akamba

2. Between the two of us, all meetings we had earlier was to use the walks as grounds to cement our hold on the grassroots.

3. We also had discussions to the effect that both of us after a successful walk will use that to champion our individual political ambitions

4. I expressed interest in availing myself for the flagbearership race which I am not ashamed of, while my brother told me he will be contesting for the substantive national organiser.

5. We agreed that since Mr. Mahama is the most popular candidate within the NDC but can't win the general elections, we will use him as the face of the walks so to get the grassroots out, while I, like any other new face step in as an alternative having achieved the needed mileage with the walks.
6. I was a little shocked when the former president, Mr. John Mahama, decided to starve us of funds, because I suspected my brother might have leaked some information with regards to my ambition.

7. We decided to introduce the "Make your branch a force for victory" soon after the walks. But obviously the tight party timetable was not favourable, so that remain on social media.

8. In all meetings ever had between us, there was an agreement that while you were at it campaigning for the position of a substantive organiser, I shall declare my presidential ambition. I know the current dynamics and and the exigencies of the times, which I believe Akamba equally do know. So I can understand his frustration.

Politics indeed is not for the faint heart. There is a reason why our party is a Congress. But unfortunately I chose to do politics which demands that I engage your kind so I am equally prepared.

You will realised that I deliberately refused to mention anywhere with regards to our discussions, until this release. Because I do not expect my ambition to affect yours. So it is not true you are not aware.

Truth is that, we have both discussed this issue extensively and none can deny in good fate. I will like to use this medium to call on my brother and friend to deny the points raised above in this release if he must be taken serious at least for the records.
I am not sure I desperately need your support at all cost to make myself available for leadership position. But it is bad fate when you choose this path to run me down, basically because you feel pressured to do so to protect your chances of winning the slot as the substantive organiser of our great party. But let me tell you, I am in this race to prove a point. Both of us have discussed extensively why Mahama can't win 2020 and why we should present alternative to give our party an opportunity to win, and I continue to stand by that.

Its OK if you want to change your mind, but the manner you chose to do so is most unfortunate. It threatens brotherhood and comradeship. It is backward and divisive , but not strange nor surprising. I only feel to respond because you chose to go after my person instead of sticking to the issues and I felt it is a wrong posture for a would-be substantive national organiser of our party. Honesty is key, even if you wish to go contrary to personal principle. Let the truth stand forever.

Signed

Hon. Kojo Bonsu

Flagbearer Hopeful National Democratic Congress