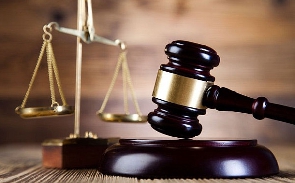 An Accra High Court has ordered the parties in a suit in which a dissatisfied customer sued an oil marketing company, Vivo Energy Ghana Limited, operators of Shell fuel outlets in Ghana, for allegedly selling contaminated fuel to him, to reach a settlement agreement.
The customer, Edmund Barwuah, who bought the petrol laced with water at the Atimpoku Shell filling station in the Eastern Region, filed the suit on September 19, 2022.

Edmund Barwuah says he purchased the diluted fuel on August 28, 2022, at Atimpoku near the Adomi Bridge.

Among other things, the complainant wants the court to compel the defendant to pay him $2.5 million as compensation for the damage to his car, a business meeting he missed on the said day, which he said could have resulted in a business deal worth more than the $2.5million due to Vivo Energy's negligence.

He is also asking the court to make a declaration that Vivo Energy breached a duty of care by selling him contaminated fuel, leading to damage to his car.

The case was heard for the first time on December 7, 2022, and the hearing was postponed until January 11, 2023.

On January 11, the court directed the parties to settle amicably and report back to the court.
However, as of February 14, 2023, no settlement had been reached.

The court thus redirected the parties to go for an amicable settlement and report back on March 8, 2023.

When the incident occurred in August last year, the National Petroleum Authority (NPA) shut down the Shell fuel station in question to allow for some investigations and remedial measures before reopening it.

NPA's intervention followed the circulation of a video of the incident on social media and a complaint made to it subsequently on August 29, 2022.

Vivo Energy Ghana Limited also apologized for the incident that reportedly led to a number of customers' cars having engine problems.

Management of Vivo Energy Ghana Limited, in a letter addressed to the NPA, said there was water ingress into the underground super tank after heavy rainfall in the area which was corroborated by the investigative team sent by the Authority.
However, a sample was sent to the head office laboratory for further investigations, with other segments going for forensic audits at the Ghana Standards Authority.

The station was only to be allowed to resume operations after all remedial actions had been taken and confirmed by the NPA.

Meanwhile, the fuel station resumed operations in January 2023 after months of shutting down.

Contaminated Fuel incident: Court directs shell, aggrieved customers to settle amicably

IB/OGB