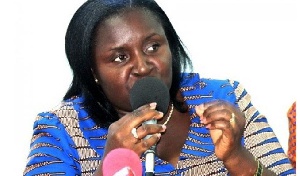 The Executive Director of the Ghana Integrity Initiative (GII), Mrs Linda Ofori-Kwafo, has said that the watertight evidence of corruption and conflict of interest provided by investigative journalist Manasseh Azure Awuni against the suspended boss of the Public Procurement Authority (PPA), Mr A.B. Adjei, makes it tough for any authority or individual to exonerate the embattled Akufo-Addo appointee.
In the investigative documentary titled 'Contracts for sale', Mr Awuni exposed Mr Adjei for selling government contracts.

This prompted President Nana Akufo-Addo to suspend Mr Adjei and order an investigation into the case.

On the back of complaints by members of the main opposition National Democratic Congress (NDC) that such probes result in Mr Akufo-Addo exonerating the culprits despite available evidence suggesting culpability, Mrs Ofori-Kwafo said on Class91.3FM's 12 Live on Thursday, 22 August 2019 that: "In this particular instance, if anybody has watched the video, it would be very difficult for anyone to be clearing somebody".
The Board Chairperson of the Office of the Special Prosecutor (OSP) added that anti-corruption bodies in the country are optimistic that the case will be dealt with to its logical conclusion and anybody found culpable, sanctioned.

"For this, we are very hopeful that something good will come out of it," she said.

She added that GII is mobilising support to bring a proper finality to the matter.