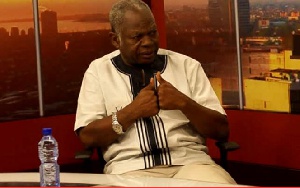 The presidential candidate of the People's National Convention (PNC) Dr Edward Nasigrie Mahama has bemoaned the corruption that has characterised the Mahama led National Democratic Congress (NDC) administration.
He blamed government for mismanaging the economy adding that he has the capacity to change the fortunes of the country and could perform better than President Mahama if voted into power.

Dr Mahama believes the State purse needs to be protected from corrupt officials to channel into developmental projects.

'I am presenting myself because I think I can do a very good job than what is being done now by the government, because I abhor all corruption, corruption is killing Ghana,' he observed.

Speaking on the Ultimate Breakfast Show, Dr Mahama indicated that the fact that he has not won elections before does not suggest that he has been wasting his time.

'I am not afraid of losing the elections, every time I run for the presidency, Ghana and my party benefit, so I don't consider that as a loss. Ghanaians know that I am trying my best to build Ghana up, National Health Insurance Scheme (NHIS) was my idea, people have been benefiting from it now and that should be appreciated by Ghanaians' he said.
A livid presidential hopeful complained that he lost his integrity, time and money when he was disqualified by the Electoral Commission (EC) saying the time cannot be recouped.

The presidential candidate of PNC lashed out at the EC for deceiving the public by saying it has distributed the voters register to the political parties when they haven't.

Dr Mahama warned Ghanaians to be mindful of their actions and utterances in order to prevent mayhem during and after the elections.

He called on the electorate to vote massively for him to win power in December 7 polls.