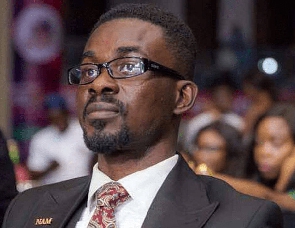 A circuit court in Accra has remanded Ghana's 'most wanted man', Nana Appiah Mensah, who is facing charges of money laundering and defrauding by false pretences, into police custody for further investigations into the case.
The Chief Executive of the defunct gold dealership firm, MenzGold, was declared wanted eight months ago and arrested Thursday when he touched down in Accra from Dubai in the United Arab Emirates.

Popularly referred to as NAM1, he was taken to the Police CID where he was interrogated by the Financial Forensic Unit of the Police Criminal Investigations Department which declined to give details of the man's arrest except to say he was being processed for court.

He was hurriedly arraigned early Friday at 6:14am by the National Security for in-camera proceedings, our court correspondent Selorm Amenya reported.

"They shut the court door and did not allow the media in saying it was on order from above," he reported.

It is unclear whether his plea was taken by the court, but the case has been adjourned to July 26.
Meanwhile, information picked by 3news.com suggested NAM1 was put before court to avoid breaching the 48-hour constitutional provision within which an arrested person is required to be arraigned.

NAM1 was facing misdemeanor charges in the UAE, but was acquitted and discharged in April by the Emirati court.

A number of Ghanaians, especially customers of the defunct gold dealership company whose huge sums of investments have locked, have since been pushing for the government and the Police CID to cause NAM1's extradition to Ghana.

He eventually landed at the Kotoka International Airport Thursday but was arrested in connection with….

Police on Friday, January 9 declared NAM1 wanted as they secured a warrant for his arrest triggering an Interpol red alert at a time that the whereabouts of the man was unknown.
"We are looking for him [Nana Appiah Mensah] to be arrested and that we have even obtained a warrant of arrest," Director of the Police CID, DCOP Maame Yaa Tiwaa Addo-Danquah, said in a statement on the same day.

Government later announced NAM1 was being held in custody in Dubai for criminal offence arising out of his business deals with a Dubai-based company Horizon Royal Diamond.

The police was forced to secure the warrant following a series of protests from aggrieved customers of Menzgold across the country who had been demanding a refund of their investments running into millions of dollars.

Background

The Bank of Ghana in August last year issued a public notice that Menzgold Ghana Limited is not licensed and has no authority to engage in the solicitation, receipt of money or investments and the payment of dividends or returns to its clients which is captured in Section 6 (1) of the Banks and Specialised Deposit-Taking Institutions Act, 2016 (Act 930).
It also hinted of impending sanctions, saying after several cautions to Menzgold, it has started discussions with relevant regulatory authorities to sanction them for breaching the law.

Though Menzgold called the bluff of the central bank, it was forced to shut down in September 2018 by the SEC.

As part of the shutdown notice, the firm was ordered not to take new contracts (investments).

SEC claimed evaluation of Menzgold's documentations show the company does not have the licences to trade in gold, and that, its operations are in breach of Act 929 "as well as a threat to unsuspecting and uninformed investors".

The company has since been in tango with SEC as well as customers and investors who are demanding their returns and investments.
But when the issues appeared to have escalated due to pressure from the customers, Nana Appiah Mensah run to parliament with a petition to intervene so the company can resume operations and pay its customers.

Intervene for us to resume operations – Menzgold begs Parliament The company pleaded with the House to particularly intervene in the impasse between it and the SEC, which the company claimed has caused delays in paying its customers interest on their investments.

The company claimed in the petition to the Finance Committee of Parliament that the complete shutdown of its gold collectible vault by SEC has "caused a lot of serious challenges for the company and its customers [both local and foreign]".

Accordingly, the firm wants parliament to "intervene and help resolve this matter amicably".