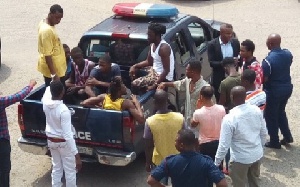 An Accra Circuit Court presided over by His Worship Justice Aboagye Tandoh, has refused a bail application brought before him by counsel for the 10 accused persons in the Kwabenya cell break case.
According to the court, although the accused persons are entitled to bail, the refusal of the bail application filed by their lawyers is to protect them and the community.

Making references to the laws of the land, the sitting judge argued that it is imperative for the interest of the state to be protected than upholding the rights and freedom of the accused persons.

Justice Tandoh mentioned that, the trial cannot also delay further at the expense of the human rights of the accused.

The trial judge has further instructed the prosecutor, Superintendent Kweku Bempah, to round up his investigations on the accused persons for an expeditious trial.

Class FM's Ibrahim Obeng-Mensah reported on Monday, 26 February 2018, that the instructions became necessary following mitigation of time pleaded by the prosecutor to conclude investigations on the six accused persons who are standing trial together with four others for escaping from lawful custody.

The judge has set March 9, 12, 14 and 15 to commence speedy trial. He has however advised counsel for the accused to prepare their witnesses ahead of the trial date.
It is recalled that seven suspected criminals broke cell at the Kwabenya police station on Sunday, 21 January 2018. The seven suspects were assisted by a group of armed robbers to escape from police custody and the attack led to the death of one police officer at the station.



Two others involved in the cell break-Prince Osei and Atta Kojo-are already serving 30 months imprisonment each.

The two were convicted based on their own plea and the sentence will run concurrently.