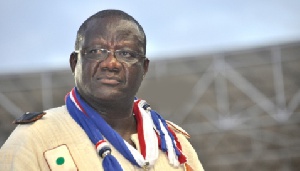 A court in Accra has thrown out a case against the indefinite suspension of New Patriotic Party (NPP) national chairman Paul Afoko.
A supporter of the main opposition NPP was in court to challenge the National Executive Committee's decision to penalize the embattled chairman.

According to NEC, Afoko's actions were inimical to the fortunes of the Danquah-Busia-Dombo tradition.

The court ruled that the case of a party supporter Oppong Kyekyeku did not prove his interest in the case and failed to prove he was an agent of Afoko.
Kyekyeku argued the National Council should have dealt with the case instead of the NEC hence the decision is in violation of the party's constitution.

The court ordered the applicant to exhaust internal mechanisms in dealing with party issues instead of going public.