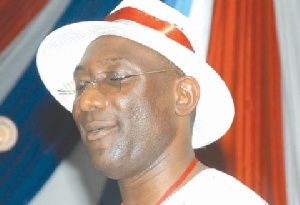 Suspended Second Vice Chairman of the New Patriotic Party Sammy Crabbe has stated that he does not recognize his suspension by the National Executive Committee of the party.
According to him, the committee that pronounced the indefinite suspension verdict on him and the party's general secretary Kwabena Agyepong Thursday does not have the locus to pass such judgment on him.

The two executives were handed an indefinite suspension by the NEC of the NPP following petitions of misconduct against them by some members of the Danquah-Busia-Dombo tradition.

Speaking to Nii Arday Clegg on the Morning Starr Friday, Crabbe said what is currently happening in the NPP amounts to a coup d'etat and must be confronted.
"The committee that met yesterday was not properly constituted, the disciplinary committee didn't have jurisdiction. I will continue to serve and act as the second vice chair of the party and if any extremist try to frustrate me in performing my duty, I shall take them on physically.

"...I am not going to accept an illegality, I won't accept that, I will continue to do my job, the decision is illegal and I shall treat with the contempt that it deserves. I will not kowtow to the extremists. This is a coup d'etat and such Coup d'état are things of the past," he stated.

The NPP has been wreaked with a protracted internal rivalry that has seen the suspension of its national chairman Paul Afoko.