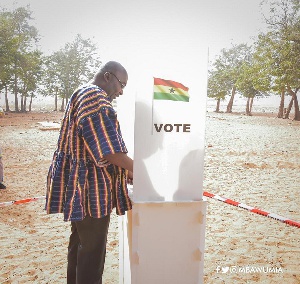 Vice President Dr. Mahamudu Bawumia cast his vote Thursday morning in the historic referendum to create six new regions, stating the decision, which has received criticisms, is not a partisan one.
Dr. Bawumia who voted at exactly 9:20 am Thursday at the Kperiga Presby JHS 'A' polling station in the proposed North East region, urged registered voters in the proposed enclaves to come out in their numbers to exercise their franchise in the referendum.

"This is not a partisan matter," he told journalists after voting, adding "This is a matter for those people in the affected regions and so everybody should come out and vote."

"I want to take the opportunity to encourage everybody to come out and vote. It is very important that everybody has a say in the creation of this region [North East] and in all the other regions," he said.

Voting is currently underway in parts of the Western, Brong Ahafo, Northern and the Volta regions where the proposed six regions -Western North, Bono East, Ahafo, Savannah, North East, and Oti – are expected to be created.

Fifty percent of registered voters in each of the proposed regions are required to cast their vote and more than 80 percents the vote cast by the 50 percent must be 'Yes' in order for the creation of the proposed regions to be successful.
The Vice President there is a lot of enthusiasm for the creation of the new regions.

Meanwhile, a Deputy Chief of Staff, Abu Jinapor, has also cast his vote at Damongo in the proposed Savannah Region.

"I'm sure you may have observed the enthusiasm. In the case of the Savanna Region, we are confident and very hopeful that we will have a massive 'Yes votes' to culminate the creation of a new region". Abu Jinapor told our correspondent Zubaida Ismail after voting.