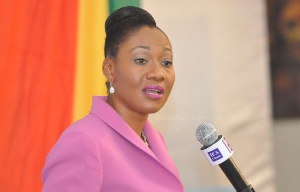 The Electoral Commission (EC) has stated that the creation of new constituencies is on its agenda but has denied reports that a decision has been taken for 25 additional constituencies.
According to the EC, those reports are lies and inaccurate.

The EC, according to media reports is ready to create 25 additional constituencies, bringing the number to 300, with the Ashanti region alone getting about 17.

The remaining 12 would be distributed to the other regions.

The Progressive People's Party (PPP) criticized the decision as "uncalled for."

"We feel it's a bad idea to expand the 275 constituencies which is a fair representation considering the size of the nation.

"Two hundred and seventy five constituencies are enough. I don't see what benefits we'll derive as Ghanaians when the constituencies are increased. There will be challenges that will come with the additional 25 which to me is uncalled for," the PPP's National Chairman, Nii Allotey Brew Hammond stated on Morning Starr.
Also, the Minority in Parliament said the creation of additional constituencies was aimed at disadvantaging the National Democratic Congress (NDC) in the 2020 elections.

But reacting to the report in an interview with Starr News' Ibrahim Alhassan, the Chairperson of the EC, Jean Mensa dismissed it as a total fabrication.

"That's a total lie," she stated, adding "It has not come up."

"We have seen reports in the public domain and we can say for a fact that this is not coming from the commission, the commission has not met to consider this, although this is an issue on its [EC] agenda and its a mandate of the commission, but those figures and information put out there is not true and we ask the public to disregard it.

"It's an issue on the agenda and a mandate of the commission so it is always on the front burner but to be honest this has not even been discussed and it has nothing to do with the creation of new regions…at the moment we are busy setting up offices and that is what is before us…and so although the creation of new constituencies is a mandate of the commission, it is not something that is occupying us at the moment," Mrs. Mensa said Monday.

She added that the EC is assessing if there's a need for creating additional constituencies and that the public will be notified when the exercise is completed.