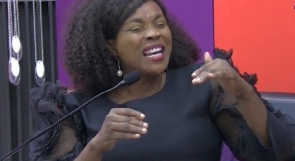 The People's National Convention (PNC) has said the celebration of Mother's Day in Ghana "will continue to be a mirage until systems are put in place to help improve the living standard of women".
Wishing all women a happy mother's day on Sunday, 14 May 2023, the party, in a statement signed by general secretary Janet Nabla, said it is "worried that successive governments have not adhere[d] to" the constitutional demand that childcare facilities are provided at workplaces "for working mothers to comfortably take care of their children while realising their potentials".

The party said article 27(2) of the 1992 Constitution instructs that that be done.

Secondly, the party observed that state institutions such as DOVVSU, social welfare, the juvenile courts and the legal aid unit that were established to help fight for the rights of children "from their irresponsible parents (in most cases their fathers) have not been successful".

The statement noted: "Mothers are the hardest hit by the devastating effect of single parenting," questioning: "Why are we not implementing pro-poor policies to help in assuaging the burden of women in taking care of these children since the children are the future of the country?"

The party said: "Most of these burden kill women prematurely, so, why are we not interested in cutting off ex gratia and using the resources to help single and struggling mothers, by paying them a monthly allowance to cater for their children?"
Also, the PNC noted that some mothers, mostly in the northern part of the country, are being beaten, stoned, and burned to death on suspicion that they are witches.

"These mothers are the elderly who have paid their dues in their small way to the society," the party acknowledged, wondering: "Why are the suspects of these atrocities not usually arrested and punished to serve as a deterrent to others?"

"As a country, what systems are we putting in place to safeguard the lives of these women?" the party asked.

"We contend that women's contribution is enormous. They are the first to wake up in the family and last to go to bed, yet little attention is paid to their wellbeing," the party complained.

It promised that a future PNC government would prioritise issues of women and mothers in the country.