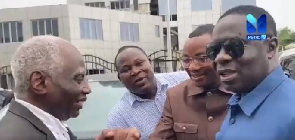 Lawyer for James Gyakye Quayson, Member of Parliament for Assin North has accused Attorney-General Godfred Dame of acting like his boss did two decades ago when he (Nana Addo Dankwa Akufo-Addo) was Attorney General.
Dame is accused by Justin Pwavra Teriwajah, of seeking to convict Gyakye Quayson, who is before an Accra High Court facing five charges of criminal conduct.

Teriwajah in an affidavit in support of motion for stay of proceedings of the High Court pending appeal at the Court of Appeal, stated that it was clear the government was bent on convicting and imprisoning his client by fair or foul means through a novel daily trial order.

Points 15, 16 and 17 of the affidavit addressed the similarities in the manner in which the Quayson and Tsikata trials are proceeding with a plea to the Court of Appeal to set aside the daily hearing order.

The relevant parts are produced below:
15. That both the president and the Attorney General are clearly craving for the conviction and imprisonment of the accused person by fair or foul means without any regard whatsoever to the constitutionally guaranteed fundamental human rights of the accused person.

16. That the conduct of the Attorney-General is very similar to the conduct of the president when he was Attorney General in 2001 when he initiated a similar trial of Mr. Tsatsu Tsikata with a predetermined outcome of convicting and imprisoning Mr. Tsatsu Tsikata.

17. That Mr. Tsatsu Tsikata found himself on 18th June 2008, a day which had not even been set for continuation of his trial, much less conviction and sentence, convicted and sentenced to five years' imprisonment.