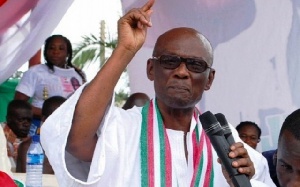 The Convention People's Party (CPP) has urged Ghanaians to give the party a chance to form the next government after trying the governing National Democratic Congress (NDC) and the New Patriotic Party (NPP) in previous elections.
Speaking to a group of young men in Nandom in the Upper West Region on his door-to-door campaign on Thursday November 3, party chairman Professor Edmund Delle said the CPP was awake and ready to wrestle power.

"…Let us make a change and the only change you can do is to [vote for the] CPP. We have given NPP time to rule this country, we have given NDC, but why can't you try CPP? Let us also try CPP and see and I've told the whole of Ghana that CPP is just a sleeping giant. But under my leadership and the leadership of Greenstreet, we are awake," he stated.
"When Ivor [Greenstreet] becomes the president of the Republic of Ghana, Nandom is one of the places he is going to develop, because the national chairman and leader of the party is from Nandom," Professor Delle said, adding: "He will be sure that all the roads you have in Nandom would be tarred… Nandom [Senior High] School is one of the best schools you have in Ghana – he is going to help them; we are going to help those private schools too and we will create more [senior high] schools for you and institute scholarships for you people to be able to go and study abroad so that you study and come and join us."

Professor Delle advised the members of the district assembly to unite for the development of Nandom, adding: "For so many years, with all the big men we have, I'm not happy. Our development is too low and I promise you that when CPP comes to power, the first district we are going to give importance to is Nandom district."