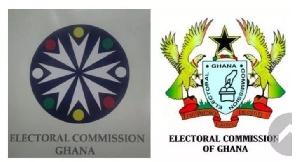 The Electoral Commissioner, Mrs Jean Adukwei Mensa says she feels emboldened by the general acceptance of the decision by the Commission to revert its old logo.
The Commissioner told Accra based Joy FM the decision to revert to the old logo was unanimous by both commissioners and staff of the electoral body.

"I want to emphasis that the decision was by the seven-member commission and it was a unanimous decision," she said.

"The change resulted from the demands from staff themselves, from the team that, the original logo represents the commission and what it stands for. That is what necessitated and brought about the change or the decision to revert back to the original logo."

According to the Commissioner, the original logo represented the work of the commission and had the Coat of Arms which represents the state, a ballot box with a hand casting its vote, at the bottom of it, it spells out the core values of the Commission being transparency, fairness and integrity. And this is what the Commission stands for.''

When asked if it cost much, the Commissioner said it didn't…It is not a branding exercise," she explained.
The Electoral Commission has reverted to it's originally logo which was changed by the former boss Charlotte Osei.



A memo written by the chairperson Mrs Jean Mensa copied to the deputy chairpersons, said: "From effective December 4, 2018, the original logo of the Electoral Commission which bears the coat of arms and has a ballot box showing the hand casting its vote has been restored."

"The core values of the Electoral Commission namely integrity, fairness and accountability have from today also been restored."

In the memo announcing the reversion, the EC boss said: "All communications from the electoral commission must from today be made on the letterhead bearing the original logo of the commission as appears on the face of this letterhead…"