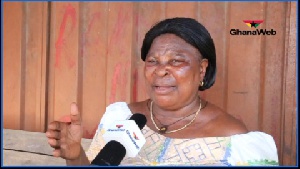 Thu, 16 Mar 2017 Source: GNA
Akua Donkor, founder of the Ghana Freedom Party (GFP), on Thursday sent audience at an Accra Circuit Court laughing following her responses to questions admitted to her during cross examination in a robbery case.
The accused persons are Yakubu Yusif, trader and Central Regional Chairman of the GFP; Banabas Kayase, her driver and secretary of the party; Opoku Agyemang, trader and Abdul Razak Shaibu, a member of a GPRTU taskforce.

Two others, Joe and Nuamah aka Lion, are currently on the run. The accused persons are on remand.

In a cross examination administered by Mr Abraham Amaliba counsel for Yusif and Shaibu, Madam Donkor maintained that Yusif was not her party Chairman at Cape Coast.

Question (Q): Yusif is your party chairman at Cape Coast

Answer (A): He is not. He belongs to the National Democratic Congress (NDC) and he speaks for them on radio.

Question: How did Yusif joined your car where you were in town on the day of the incident of robbery?

A: He came to the house under the pretext of going to see me off to the Airport.

Q: Where was Yusif when the robbery took place?

A: When the robbers came and threatened to kill me he was in the car.
Q: I put it to you that Yusif is your party chairman?

A: It is not true. I have a witness who can testify to that effect.

Q: Are you telling the court that Yusif joined your car without your consent?

A: It was Barnabas, my driver who brought him.

When defence counsel suggested to her that Yusif was her party chairman again, Madam Donkor got angry. The court intervened and asked her not to get angry but answer the questions administered.

Q: Where did you get the 30,000 dollars from?

A: Aaah I would have said something nasty to you. It's my own money. If I had stolen it you would have heard it.

Q: Where did you change your foreign currency?

A: I change them at the black market
Q: Which black market?

A: I said the black market.

Q: You are not being candid to this court?

A: I am telling the truth. I have sworn by the bible and I have chain of the cross on my neck. If I don't tell the truth God should punish me.

Chief Superintendent Duuti Tuaruka, prosecuting, said on December 30, 2016 at Taifa in Accra, the six persons conspired to rob Madam Akua Donkor, the GFP flag bearer for Election 2016.

The prosecutor said the accused persons at about 02:30 am at Sowutuom, a suburb of Accra, robbed Madam Donkor at gunpoint and snatched her travelling bag containing plane ticket, Ghanaian passport, voter ID card, $30,000 and GH¢3,000.00. Led in evidence by Chief Superintendent Tuaruka, Akua Donkor, in a court presided over by Aboagye Tandoh, the prosecution said she was attacked and Shaibu specifically ordered her to surrender the dollars in her possession.

She said it was only Yusif, Kayase and Agyemang who knew she had dollars in her travelling bag.

The witness indicated that on the night of her travel, Agyemang had asked her to give $400 to her driver which she initially protested.

Akua explained that she had already given some money to her driver, maintaining that she later gave out the said $400.
Akua Donkor asked the judge to write everything she was saying and initially disagreed to the adjournment of the case.

Chief Supt. Tuaruka said Yusif and Kayase had information that Akua Donkor had in her possession $30,000 which she intended to travel with.

He said Kayase then agreed with the rest of the accused persons to rob her of that amount, adding that Opoku called her to meet him in his house at Taifa for some discussions.

The prosecutor said "Opoku also demanded that the complainant should hand over all her car keys to him before travelling which she declined, and this brought a misunderstanding between them. Yusif, Kayase and Opoku secretly planned to contract some armed robbers to kill the complainant so that they could share the properties of the complainant, including the car and the cash she brought to Oppong's house".

Chief Supt. Tuaruka said thereafter Yusif and Kayase called Razak on phone to arrange for Joe and Nuamah to rob the complainant.

The prosecution said on the said day, Akua together with Yusif and Kayase were on board her vehicle – a Mitsubishi Pajero with registration number GT 6028-16 – from Taifa heading towards the Kotoka International Airport to catch a flight to the United States of America.

"Akua decided to pass home and on reaching Sowutuom immediately after the Agbeve Herbal Clinic area, Opoku called Kayase on phone and asked where they have reached while Razak, Joe and Lion were waiting to execute their agenda," Chief Supt. Tuaruka told the court.

He said the three, armed with guns on board an unregistered motorbike, appeared behind the vehicle, and "as soon as Kayase spotted the armed men, he reduced the speed of the car, showing double hazard indicators that the complainant was in the car."

Kayase, according to the prosecutor, parked the vehicle and the armed men attacked the complainant with guns and took the monies and items and then dragged her from the vehicle and escaped with the booty.
The prosecution said on 31st December, last year, Razak was arrested when he was called by Yusif to come for his share of the booty.

When Razak was searched, US$4,900 was retrieved from him.

He said upon interrogation Razak admitted the offence and mentioned Joe and Nuamah as his accomplices.

He stated that after the operation, they shared the monies and threw the bag into a nearby bush at Anyaa.

He led the police to retrieve the bag together.

Hearing continues on Friday March 17
Source: GNA