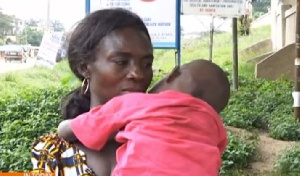 The chief of Adadientem, a village in the Assin North District of the Central Region, has denied clearing the man who defiled a 4-year-old girl.
The chief, who suffered a lot of flak in the media for trying to settle the matter himself, has said he never cleared the sex offender of his crimes.

Distressed mother of the victim, Monica Nyarko, has accused the chief of obstructing justice. According to her, the chief told her that the community gods say the suspect is innocent.

"I have received a lot of insults because people think I have settled the matter on my own, but that is not the case. We are just intrigued that the doctors had not done the test on the 4-yr old girls to ascertain that she has been defiled, I cannot shield any criminal," he said.

Meanwhile, members of Modern Women of Wisdom International (MWOW), an all-female public-spirited organisation, has described as "embarrassing and shocking", reports of a plethora of rape and defilement cases in the Assin area.
MWOW, in a statement, has however called on the Ghana Police Service to apprehend and prosecute perpetrators of these crimes in the area to serve as a deterrent to "future rapists".

"The police must leave no stone unturned in bringing all the perpetrators of these scandalous acts in Assin to book," the statement said.

Again, MWOW called on the National Commission for Civic Education (NCCE) and the Ministry of Chieftaincy and Religious Affairs to institute a robust advice system that spells out the need for chiefs to protect their subjects from evil-minded persons by allowing the laws of Ghana to work without fear or favour.