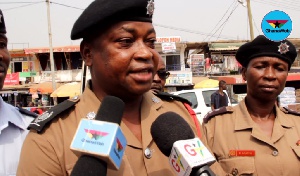 The Greater Accra Regional Operations Officer of the Ghana National Fire Service (GNFS), Ofori Adjei, has blamed the delay in quenching the fire outbreak at the Dome Market on lack of access to the market.
Addressing the media, Mr. Adjei said the rescue team experienced difficulty in breaking into some of the metal containers that had caught fire, taking them about three hours to keep the fire under control.

"We mobilized about five fire appliances to the scene which took us about nearly two and a half to three hours to bring the fire under control. Because we did not get accessibility to the place so we found it difficult breaking in some of the metal containers.

"That was why it took us that lengthy time. However, we were able to confine the fire and we've been able to extinguish the fire totally," the Chief Firefighter explained.

He also bemoaned the looting of exposed shops by thieves who seized the opportunity to steal whatever they laid their hands on. He added that the Police Service had to intervene in order to keep the place secure.
"We experienced a lot of challenges – accessibility into the market, the public was also trying to assist us but they were hindering our progress; some were looting so we had to call the police for reinforcement to protect those items that we were able to save," he stated.

Mr. Ofori Adjei disclosed that the swift intervention of the GNFS ensured that about 80% of the market was saved from the inferno, though about 25 metal containers were gutted down by the fire.

Market stalls, shops and other structures in the Dome Market were consumed by an inferno that is believed to have started a few minutes after 7 pm on Wednesday evening.