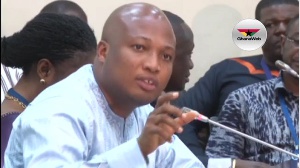 The achievements of the New Patriotic Party (NPP) government in its first 100 days would not be complete without the inclusion of brutalities meted out to innocent Ghanaians by members of its militant group Delta Force, Samuel Okudzeto Ablakwa, Member of Parliament for North Tongu, has said.
According to him, the "thuggery" of the Delta Force and the Invincible Forces – another vigilante group affiliated to the governing party – has dominated the media space over the past few days under this government, hence the government cannot be silent on it as it touts its accomplishments.

His comments follow Vice President Dr Mahamudu Bawumia's touting of the achievements of the NPP government in its first 100 days on Easter Monday April 17.

The Vice-President mentioned that the government had recorded at least 103 achievements within its first 100 days in office.

He mentioned the restoration of fiscal discipline and macro stability; re-profiling of Ghana's public debt with the issuance of USD2.25 billion sovereign bonds at up to 15 years at 19.75%; massive boost to our gross international reserves from $6billion $8billion as some of the achievements of the government in the past few days.

However, speaking in an interview with Chief Jerry Forson, host of Ghana Yensom on Accra100.5FM on Tuesday April 18, Mr Ablakwa said most of the claims by the Vice President were either half-truths or outright falsehood, and the Minority in parliament would be holding a press conference to point out the actual achievements of this government to Ghanaians.
He said: "Any achievements of the NPP government cannot be without the reign of terror the Invincible [Forces] and Delta Force are unleashing on Ghanaians.

"They have brutalised people at the Flagstaff House. Apart from the Flagstaff House, they went to the Ashanti Regional Security Secretariat to brutalise the security coordinator and also attack a court.

"To the extent that the UN has cautioned a sitting president on such attacks, we cannot mention their achievements without the activities of these groups.

"I must add that most of the things touted by the Vice President are half-truths and some are not true, we will be organising a press conference to let Ghanaians know what is really happening."