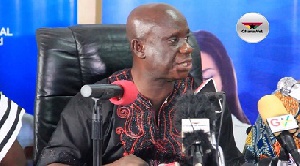 A Deputy General Secretary of the New Patriotic Party (NPP), Nana Obiri Boahen, has said vigilante groups associated with the NPP are not responsible for the attack on Abronye DC.
Nana Obiri Boahen stated that the members of the party's private security arms, the Delta and Invincible Forces are law abiding therefore the accusations made against them in connection with the attack on the Brong Ahafo Regional Youth Organiser for the New Patriotic Party (NPP) Kwame Baffoe popularly known as Abronye DC is baseless.

According to him, the attack is a criminal action that was orchestrated by some miscreants who must be apprehended and dealt with according to the law.
Speaking on an Accra based radio station; "The people making this comment that Delta Forces and Invincible Forces were the ones who attacked Abronye DC are making a big mistake. Some people attacked the NPP youth organiser and you sponay, by extension, it is the vigilante groups that did that? Do you think the Delta and Invincible Forces are a bunch of lawless characters? Such assertions are baseless."

Abronye DC was reported to be attacked by some unknown assailants on January 13 ,2018 at Atebubu where he was scheduled to meet with some party executives in the Region to discuss his intention to run for a national executive position.